Shoes and apparel dedicated X-Ray inspection device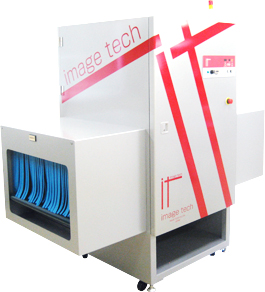 Loại sản phẩm: Máy X-Ray
Mã sản phẩm: ITX Series
Nhà cung cấp: Anh Nghi Son
Xuất xứ: Nhật Bản
Hãng sản xuất: Imagetech
Giá : Vui lòng liên hệ
Ứng dụng: Giám định kiểm kim cho giày và quần áo
Đặc trưng sản phẩm: • Supports up to longest 2200mm objects( itx-s40t series:1320mm) • Dual direction two screens type • Imaging capability • Image enlargement & reduction • Saving images & data • Easy operation • Image enhancement  • Movie mode • Auto needle detection 
Máy kiểm kim X-ray
Máy X-ray ITX Imagetech là Thiết bị có khả năng xử lý hình ảnh và độ phân giải cao - giúp xác nhận các vật thể lạ khác so với đinh dưới đáy giày hoặc vật thể lạ trên quần áo- phù hợp trong khâu kiểm tra giày dép và các sản phẩm may mặc
Thông tin sản phẩm Máy X-ray ITX Imagetech :
SUPPORTS UP TO LONGEST 2200mm OBJECTS( ITX-S40T SERIES:1320mm)
Large field-of-view on our X-ray line sensor camera shows big objects such as long coats and long boots on 1 screen.

DUAL DIRECTION TWO SCREENS TYPE (ITX-S40DT、S50DT、S65DT、S75DT)
Sometimes overlapping or folded objects (such as hidden objects or overlapping nails in shoes) can't be seen well from one direction so this function captures X-ray images in 2 directions to reduce the blind spot for a better view.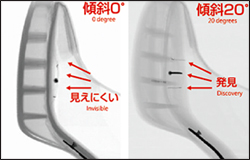 IMAGING CAPABILITY
Imaging reveals foreign objects (including metal, glass, stone, resin, hard rubber, silicagel, etc.) besides nails in the shoe bottom.
IMAGE ENLARGEMENT & REDUCTION
Easily enlarge or reduce the image display as needed. Enlarge the image in 0.1 times steps from 0.4 to 4.0 times the original size.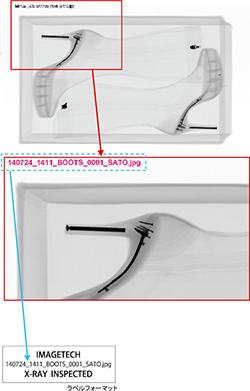 SAVING IMAGES & DATA
Automatically saves the captured image along with the manufacturing date (Mo. Dy. Yr.), order number and production number. Data can be stored in external memory (DVD, etc.). Note: Label printer available as an option automatically prints out the manufacturing date (Mo. Dy. Yr.), order number and production number on the label.
EASY OPERATION
Large touch panel display is easy to read and makes for easy operating.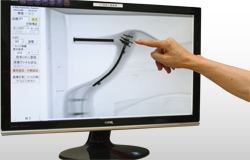 IMAGE ENHANCEMENT
Image enhancement function (for setting the ideal brightness and contrast of target section) makes broken pins and other foreign objects easy to see and shortens inspection time.

MOVIE MODE
Movie mode allows making visual inspections without waiting for image capture to finish.
This drastically shortens the time needed for inspection!
Now you can make 6,000 pass/fail shoe inspections per day based on actual results.
AUTO NEEDLE DETECTION
Our optional auto needle detector software finds broken needles in clothing automatically and marks them.
Máy X-ray ITX Imagetech có các dòng như sau, vui lòng liên hệ để nhận tư vấn :
| | | | |
| --- | --- | --- | --- |
| ITX-S40T | Máy X-ray , Máy kiểm kim X-ray | X-ray detector | Imagetech, Sanko Vietnam, Đại lý Imagetech |
| ITX-S75T | Máy X-ray , Máy kiểm kim X-ray | X-ray detector | Imagetech, Sanko Vietnam, Đại lý Imagetech |
| ITX-S65DT | Máy X-ray , Máy kiểm kim X-ray | X-ray detector | Imagetech, Sanko Vietnam, Đại lý Imagetech |
| ITX-S65T | Máy X-ray , Máy kiểm kim X-ray | X-ray detector | Imagetech, Sanko Vietnam, Đại lý Imagetech |
| ITX-S50DT | Máy X-ray , Máy kiểm kim X-ray | X-ray detector | Imagetech, Sanko Vietnam, Đại lý Imagetech |
| ITX-S50T | Máy X-ray , Máy kiểm kim X-ray | X-ray detector | Imagetech, Sanko Vietnam, Đại lý Imagetech |
| ITX-S40DT | Máy X-ray , Máy kiểm kim X-ray | X-ray detector | Imagetech, Sanko Vietnam, Đại lý Imagetech |
Menu sản phẩm
Hổ trợ trực tuyến
loan.ans@ansvietnam.com
dung@ansgroup.asia

Ms. Loan - Jane:
096 8186 641

Ms. Dung:
0918.999.491
Lượt truy cập
| | | |
| --- | --- | --- |
| | Đang online | 7 |
| | Lượt truy cập | 112126 |